Scoop of Joy
Wells has built a legacy on sharing the joy of ice cream. From that, we've grown to be the largest privately held, family-owned ice cream and frozen treat manufacturer in the United States. For us, that means we're continuously adapting to a changing industry—and times—while staying true to what our founders started in 1913.
For you, it means you're consistently getting the best quality, flavor, and experience possible. We take your satisfaction seriously—and your priorities to heart. As a result, you can rely on us for scoop after scoop of joy.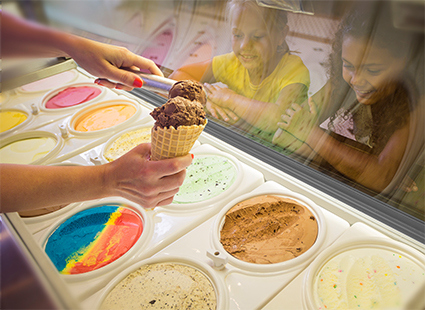 Quality
We're cited by industry experts as one of the most technically advanced in the industry. Our ice cream manufacturing plants have earned a level-3 certification, the highest level, from the Safe Quality Food Institute. We believe that it's not just what we do, but how we do it, that sets us apart. And without our dedicated employees, we wouldn't be able to do any of it.
Brands
What started as Blue Bunny Ice Cream® has grown to include multiple brands and licensed products. We're proud of where we started, excited for how we've expanded, and eager to see where we go next. Explore our brands and join the journey!
Community
Wells does more than produce ice cream. We work to produce better communities and positively impact the ones we're in.
Ice cream isn't the only way to make the world a better place. We're committed to our values and to serving our communities through groups like the United Way and the Jimmie Johnson Foundation's Helmet of Hope program.
Our Locations
A small town in the Midwest is where we got our start and it's where our products are made, but we also employ people across the country in order to bring those amazing products to freezers throughout the United States.
History
From a simple start to industry leader, Wells has a history as rich as its ice cream.
Learn More